About the Journal
Focus and Scope
PELJ/PER publishes contributions relevant to legal development in a constitutional state. Thus, contributions on any aspect or discipline of the law from any part of the world are welcomed.
Peer Review Process
The scholarly rigour and the contribution that a manuscript makes to the development of legal scholarship serve as primary criteria for acceptance for publication. Contributions submitted are reviewed in two steps.
Step 1 is an internal evaluation where the editorial team ensures that:
the contribution  falls within the focus and scope of PER/PELJ;
the quality and clarity of the language is good;
the guidelines and referencing style have been complied with (see PER/PELJ Standard for Style and Citation); and
the contribution is on the face of it of an adequate level of scholarly quality.
Step 2 is an external evaluation where contributions accepted for review are subjected to anonymous blind reviews by at least two reviewers who will be selected according to availability and subject matter of the contribution.
Suppose the reviewers are not in agreement whether a contribution is publishable or not, or differ considerably on the changes/additions to be made. In that case, the manuscript might be sent to a third reviewer. However, the final decision to publish or not is made by the editors. The author is subsequently informed about the reviewer's recommendations and, if necessary, requested to make the changes and/or additions as suggested by the reviewers. 
Both international and national reviewers are invited to participate in the peer review of manuscripts submitted for possible publication. The average period for author feedback is about four (4) months, but more extended periods are experienced as the journal grows.
Contributions that do not comply with the guidelines and referencing style will be rejected outright.
Publication Frequency
PELJ/PER operate under a continuous publication model from 2016 onwards.
Instead of using page numbers to cite a contribution within a year volume, a unique article identifier is used, namely the Digital Object Identifier (DOI) available on each contribution.
Open Access Policy
This journal provides immediate open access to its content on the principle that making research freely available to the public supports a greater global knowledge exchange.
Articles from this journal can be submitted to institutional repositories, subject to the following conditions:
Always upload the final version as published at http://journals.assaf.org.za/index.php/per
Acknowledge the publisher.
Cite the article as part of the metadata and
include the DOI as part of the citation to the article.
Plagiarism Policy
Plagiarism is defined as using another's work, words or ideas without attribution or permission and representing them as one's own original work. Plagiarism may take many forms, ranging from major plagiarism (the copy-and-paste of large amounts of text) to minor plagiarism without dishonest intent (e.g. when an author uses parts of an introduction from an earlier paper) and even self-plagiarism (the reuse of significant, identical or near-identical portions of one's own work without citing the original version).
PELJ/PER subscribes to plagiarism detection software, and all contributions submitted to the journal will be scanned to verify originality. 
Contributions containing plagiarism will not be considered for publication. Suppose plagiarism is brought to light after a contribution has been published. In that case, PELJ/PER will conduct a preliminary investigation, and suspected misconduct will be reported to the institutes and funding agencies of the author concerned. PELJ/PER reserves the right to formally retract such contribution and publish a statement to reference material as plagiarism.
Indexing/Listing
PELJ/PER is indexed/listed by the following:
View the ASSAf Committee on Scholarly Publishing in South Africa Report on Grouped Peer Review of Scholarly Journals in Law and Related Legal Fields (2014) for an independent peer-review of PELJ/PER. 
Also, view the comparison by Marita Carnelly, "Identifying predatory open-access academic journal publishers, in light of the South African Department of Higher Education and Training's decision to retrospectively de-accredit certain journals" published in 2015 Obiter pp. 519-538.
Copyright & License Terms
Copyright remains with the author/s of the article/s.
All articles published in PELJ/PER can be re-used under the following CC license: CC BY 4.0 - Attribution 4.0 International.
Digital Preservation Policy
This journal utilises the Portico system to create permanent archives of the journal for purposes of preservation and restoration. Click here to view PELJ/PER in the Portico Keeper's Registry.
Usage & Impact
Statistics are generated through OJS, as well as all other platforms indexing PELJ/PER.
Access selected statistics at:
Google Scholar Citations as on 14 April 2021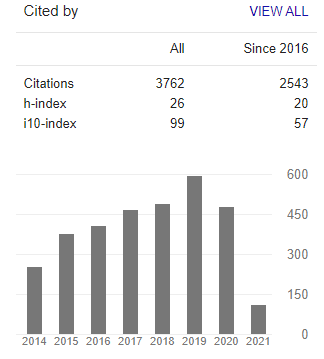 Article Processing Charges (APCs)
From 7 January 2020, the charge is ZAR150.00 (plus 15% VAT) per page published, to cover editorial costs.
From 1 April 2021, the charge is ZAR180.00 (plus 15% VAT) per page published, to cover editorial costs.
No article submission charges apply, and an invoice is generated when the article is published.
Language Policy
Authors are invited to submit Afrikaans, English, German and Dutch articles. Suppose a contribution is in a language other than English; it must also be accompanied by an English title, abstract and a list of keywords.
Editorial Board
The members of the editorial board provide editorial oversight and advice to the editor and other persons involved in producing the journal.
The members on the Editorial Board are listed under "Editorial Team".
Disclaimer
PELJ/PER, the Faculty of Law and ASSAf make every effort to ensure the accuracy of all the information contained in our publication. However, PELJ/PER, our agents, and our licensors make no representations or warranties whatsoever regarding the accuracy, completeness, or suitability for any purpose of the contributions. Any opinions and views expressed in this publication are the opinions and views of the authors and are not the views of or endorsed by PELJ/PER, the Faculty of Law (NWU), the editorial team or ASSAf. The accuracy of the contributions should not be relied upon and should be independently verified with primary sources of information. PELJ/PER, the Faculty of Law (NWU), the editorial team or ASSAf shall not be liable for any losses, actions, claims, proceedings, demands, costs, expenses, damages, and other liabilities whatsoever or howsoever caused arising directly or indirectly in connection with, concerning, or arising out of the use of the content of the publication.
DOI & CrossRef
PER / PELJ uses a digital object identifier (DOI), which is a unique alphanumeric string assigned by a registration agency (CrossRef) to identify content and provide a persistent link to its location on the Internet. The publisher assigns a DOI when an article is published and made available electronically.
The DOI for an article remains fixed over the lifetime of the article, whereas its location and other metadata may change. Referring to an online article by its DOI provides more stable linking than simply referring to it by its URL, because if its URL changes, the publisher only needs to update the metadata for the DOI to link to the new URL.
Errata/Retractions Policy
Errata or retractions of findings or statements in published contributions should be immediately brought to the editor's attention. Corrections or alterations would be flagged and may, if necessary, be replaced with a corrected version of the contribution. In severe transgressions of the generally accepted standards of responsible scholarship, a published contribution may be removed from the PER/PELJ website.
Deposit Policy Registry
The author has the right to self-archive copies of his or her published contribution in any depository. In addition PELJ/PER is archived in the following depositories and databases:
Complaints Policy
This procedure applies to complaints about the contributions, policies, procedures or actions of the PER/PELJ editorial staff. We welcome complaints as they provide an opportunity for improvement, and we aim to respond quickly, courteously, and constructively. Please write your complaint with contribution title and URL to the Editor.
A complaint includes any of the following issues:
contested authorship;
copyright infringement;
plagiarism;
multiple, duplicate, concurrent publication or simultaneous submission;
errors and fraud;
research standards violations;
undisclosed conflicts of interest;
reviewer bias; or
any other complaint that deals with content or process within the responsibility of the journal.
PER/PELJ will investigate the complaint. An investigation may include a request that the parties involved substantiate their claims. PER/PELJ will make a good faith determination whether to remove the allegedly offending contribution. A decision not to remove material should represent the journal's belief that the complaint is without sufficient foundation, or if well‐founded, that a legal defence or exemption may apply, such as fair use in the case of copyright infringement or truthfulness of a statement in the case of defamation.
See also plagiarism Policy and Errata/Retractions Policy.
Sponsors
The journal is sponsored by the faculty of law, North-West University, South Africa.
Sources of Support
ASSAf provides support to host the journal on the online journal system (OJS).
Journal History
Potchefstroomse Elektroniese Regstydskrif (PER) / Potchefstroom Electronic Law Journal (PELJ) is pioneer in open access, peer reviewed, electronic publishing!
When PER ⸺ an acronym for the Afrikaans journal-title Potchefstroomse Elektroniese Regstydskrif but also suggesting the Latin connotations of causation, durability and facilitation ⸺ appeared in November 1998 for the first time, there was an awareness of the incongruity of the notion of a law journal not being published in tangible form by an established law publisher. But, on the other hand, it symbolised the inevitability of things to come. The editorial stated: "In this era of an unstoppable increase in information on offer and improved means of communication, it is inevitable that the exchange of juristic ideas should develop and escalate electronically, by internet. However, a problem already challenging the time-starved legal user of the electronic medium is to separate the wheat from the chaff. For many people, it is relatively easy to publish something on the Web. It is, however, just as demanding to produce quality in this manner as through any other medium, be it primitive or avant-garde."
From the outset, the Potchefstroomse Elektroniese Regstydskrif (PER) / Potchefstroom Electronic Law Journal (PELJ) focused on maintaining high editorial standards and producing material for legal scholars worth reading. The most widely cited contribution to PER/PELJ (on Ubuntu by Justice Yvonne Mokgoro) appeared in the first volume. In addition, papers delivered (referred to as orations) in Potchefstroom by visiting scholars and judges were often published in PER/PELJ. Double-blind peer review practices were maintained throughout, except for the orationes.
From time to time, guest editors were invited to produce single or special editions. Renowned South African and foreign scholars are regularly approached to review submissions to PER/PELJ, and the editorial board is composed of prominent internationally recognised academics and judges.
Through the special efforts of Christa Rautenbach, since 2003, PER/PELJ has taken its place among a range of renowned internationally accredited journals, currently listed and indexed inter alia by IBSS, DOAJ, SSRN, AJOL, Boloka, SciELO, HeinOnline, Jstor, Web of Knowledge and Google Scholar. In 2014 six editions, covering almost 3000 pages were published, and in 2015 seven editions with 96 articles covering more than 3000 pages. This trend continues.
In 2016, PER/PELJ migrated to this online journal system, and contributions accepted for publication are now published seriatim as soon as the finally edited version becomes available.
Francois Venter, Founding Editor
PER / PELJ Editors since 1998